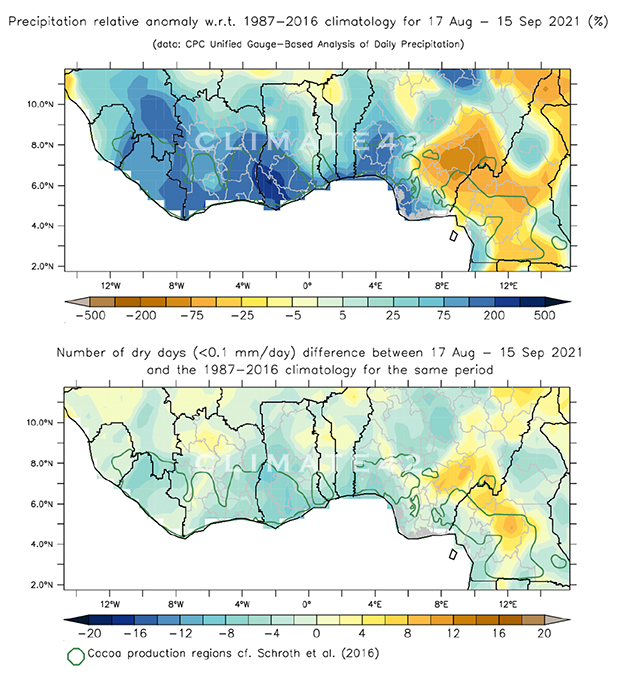 In line with predictions, September has so far brought well above-average precipitations in Ghana, SW Nigeria and Ivory Coast, where rains had already resumed mid-August. With precipitations between 130 and 300 mm over the past 30 days, most of these cocoa regions have received more than double the normal amounts of precipitation for this time of the year – and more than triple in Ghana's Western region!

While negative anomalies persist in much of east Nigeria and Cameroon, cocoa plantations there are by no means suffering from dry conditions, as most of these regions have received between 100 and 400 mm of rain over the past 30 days.

With few exceptions (most notably, in central Cameroon), most of the African cocoa regions have seen more rainy days than the norm during this period. This is especially true in Ghana, which has not seen more than 6 dry days since mid-August.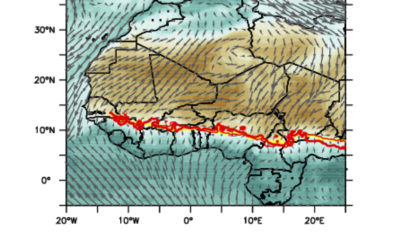 The ITF has been lagging slightly behind its normal position throughout most of the past month, only catching up to it in late November. By the end of the month, the ITF was located right along its average position for this time of the year: near the northern borders...